Biometric rifle safes are increasing in popularity. Gun owners enjoy having quick access to their handguns without sacrificing safety or security. With a biometric reader, you can easily unlock your safe using your own thumb or fingerprint. Large enough to store up to three rifles and featuring biometric technology that allows you to add up to 120 users, this is a Barska safe for the modern era.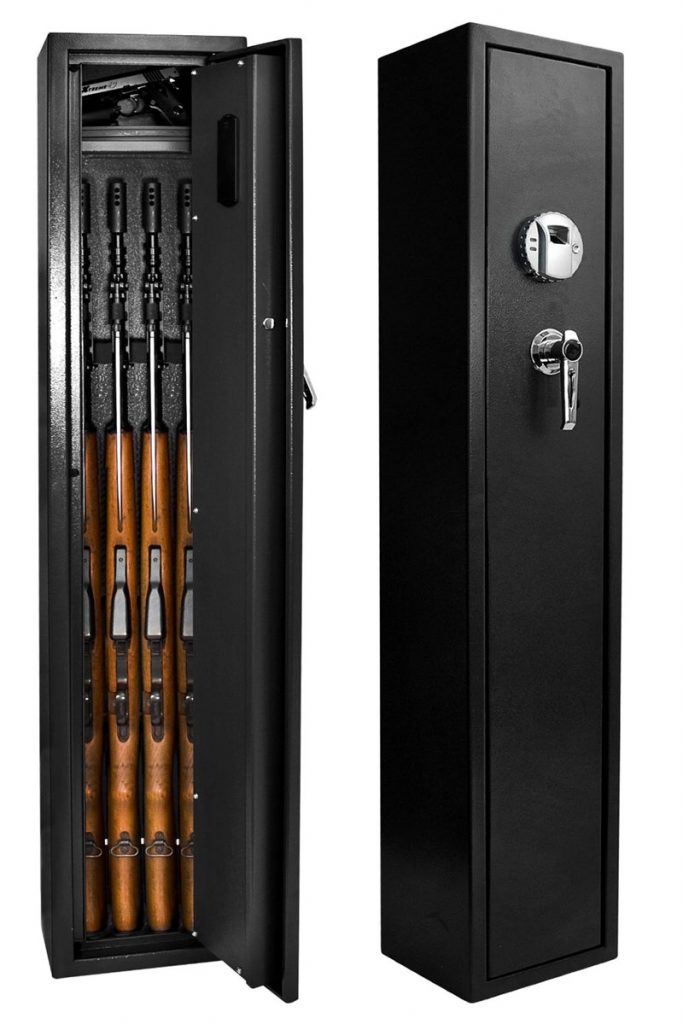 Learn more about this biometric gun safe by taking a moment to read the rest of this review.
Overview and Technical Details
What is the Barska biometric rifle safe? It is a solid home safe for your rifles or other important items. What sets it apart from your standard home pistol safe is the quick access biometric reader. This reader works flawlessly, giving you quick entry to your safe without having to worry about the security of the safe.
The Barska biometric rifle safe comes with a set of backup keys, an external battery pack, and mounting hardware. The biometric technology that is used gives quick and effortless entry, while protecting your valuables. There is also a three-point solid dead bolt locking system that is operable with just one hand.
Some of the other features to point out include the following:
Solid steel construction
1-year warranty
65 pounds
2×9.8×8.7-inches (exterior size)
The solid steel construction prevents unwanted entry to your safe. While this is marketed as a biometric rifle safe, you could also store other valuable items. This could include jewelry or important documents – such as birth certificates or the deed to your home.
Each Barska biometric rifle safe is backed by a 1-year warranty. In the event that your biometric reader stops functioning properly or you experience any other defects, you can have the safe replaced or order replacement parts.
The hefty 65-pound weight of the safe will help prevent theft, if you choose not to mount the safe to a floor or wall. It is large enough and heavy enough to deter theft, while the inside provides enough space to hold up to three rifles – depending on the sizes.
Pros
Why should you think about buying the Barska gun safe? Thanks to a couple of key features, this biometric rifle safe is one of the best options for securing your rifles. Here are some of the benefits that you can expect from this safe:
Biometric reader allows you to store up to 120 users
Powered by 4 AA batteries that only need replacing every 2 years
Includes 2 backup keys
Comes with pre-drilled anchor points
Silent opening and closing
While other biometric rifle safes allow you to store a few users, the Barska gun safe lets you store up to 120 users. Even though it is unlikely that you will need to store that many users, at least you have the option to add as many users as you would like.
The biometric reader is powered by 4 AA batteries. These should only need replacing every two years. This means that you should not really have to worry about the biometric reader not working due to a lack of power.
In the event that the biometric reader does not recognize your fingerprint or if the battery power fails, you can use the two backup keys to get into your safe.
The Barska biometric rifle safe also comes with pre-drilled anchor points. This allows you to easily secure your safe to a wall or floor.
This biometric rifle safe also features silent operation, so you can discreetly open and close your safe without making any noise. This could be beneficial if you ever need to quietly open your safe while an intruder is in your home.
Cons
Even though there is a lot to like about this biometric rifle safe, there are a couple of features that may make you think twice about purchasing this safe. Here are a couple of the disadvantages that users
Can only hold up to 3 rifles
The safe does not stand securely without mounting
The safe is not fire retardant
Some users were a little disappointed with the fact that they could not store more than 3 rifles. Depending on the size of your rifles, you may only be able to store one or two rifles. While the inside of the biometric rifle safe may be a little snug, it is still large enough for most gun owners.
Another issue to consider before purchasing is the stability of the safe while it is unmounted. If you plan on purchasing this safe, you should mount the safe to a wall or floor using the pre-drilled anchor points. Otherwise, you should lay the safe length-wise along the floor.
This final disadvantage could be an issue for some users. The Barska gun safe is not fire retardant. The sturdy solid steel construction should prevent the fire from reaching the interior of the safe, but there are no guarantees and the safe is not listed as offering fire protection.
Where Can You Buy?
The Barska Quick Access biometric rifle safe is currently available through Amazon, with free shipping for those that have Amazon Prime. The cost is under $300, which is relatively affordable. In fact, you would likely spend about the same amount for a quality rifle safe without biometric entry. This is an affordable safe with some quality features.
What are People Saying?
Most comments about this biometric rifle safe are incredibly positive. Out of 650 customer reviews, the Barska gun safe maintains a 4-star out of 5 rating on Amazon. The majority of users were satisfied with the design and the quality of the biometric reader.
The only issue that gets mentioned repeatedly is the size of the interior of the safe. With larger long rifles, you may have trouble storing three or more rifles.
Read more reviews and opinions
Conclusion
Barska is mostly known for the production of high-end sports optics, including riflescopes and binoculars. While that is their primary focus, they also have a number of quality gun safes. This includes the Barska quick access biometric rifle safe.
The Barska biometric rifle safe is one of the top rifle safes featuring biometric technology. It is large enough to store up to 3 rifles. Though, depending on the size of your guns, you may be limited to one or two rifles. The biometric reader works flawlessly and the silent operation ensures you can discreetly and quickly access your safe.
If you need a new rifle safe or are considering making the upgrade to a quick access gun safe featuring biometric technology, the Barska rifle safe is one of your better options. Visit Amazon today to place your order before the current sale price expires.